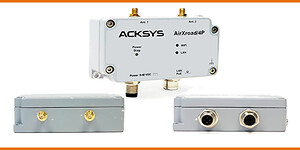 Acksys AirXroad/4P can be installed in full safety aboard of all on-road equipment.
AirXroad/4P is a compact rugged enclosure equipment, ideally designed for applications in road transportation, depots, warehouses, agriculture, manufacturing floors, docks, distribution centers, shipyards and lumberyards… it can be mounted in trucks, city buses, forklifts, trailers, tractors or cranes or in any rotating machinery, for material handling, real-time information transmission, and inventory management.
The device relies on the multi-streams MIMO technology that contributes to an expanded coverage, higher data throughput and increased radio link reliability.
It fulfills the most severe requirements in terms of operating environment: from -20°C to +60°C, shock and vibration proof, protection against dust and water projections (IP66).
AirXroad/4P is E-marked ECE R10* (EMC standard for electronic equipment installed aboard vehicle), and can thus be installed in full safety aboard of all on-road equipment.

Features: Acksys AirXroad /4P – AP/client/repeater/Mesh/router:
All-in-one : AP/client/repeater/Mesh/router
WiFi 802.11a/b/g/n (MIMO 2T2R), radio data rate up to 300 Mbps, 2.4/5 GHz
Easy and secure configuration: web browser (HTTPS), SNMPV3, WaveManager
Operating System : WaveOS
DC power supply input (+9VDC to +48VDC) & PoE 802.3af
Multichannel fast roaming (in client mode)
Shock & vibration proof rugged aluminium enclosure IP66 seal rating
E-marking (ECE R10 certification for integration in onboard vehicles)
For more information and support, please contact us at:
info@recab.com or Chat with us at www.recab.com.
Recab
Västberga Allé 5
SE – 126 30 Hägersten
Phone: + 46 8 683 03 00
More News from Recab:
Recab: Catalog of Products and Solutions
Recab: Enhanced mobile broadband (eMBB)Industrial 5G is here
Sucess Case: CuePilot: Innovative software & hardware in high-end TV broadcasts – An embedded solution