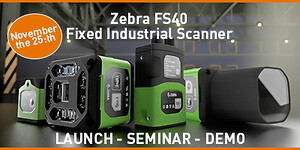 Recab introducing Zebra FS40 Fixed Industrial Scanning and Machine Vision System
- Welcome to demo and seminar in Kista Stockholm or online the 25th of November:
The FS40 delivers a broad set of capabilities required to meet complex barcode capture requirements, all in a single package. Tailor the device to your specific needs by choosing from flexible options like decode range, illumination, connectivity, power & more. -You can add advanced features with simple software upgrades.
Easy to set up, deploy and run
Proven industry leading technologies
Upgradeability — add features with a software license
One software platform to manage the entire portfolio

Track and trace items traveling on the conveyor or through key portal transition points in manufacturing plants, distribution centers and warehouses with Zebra's Fixed Industrial Scanners. Whether you need simple and straightforward capture of barcodes on package labels to the complex capture of printed and direct part marked barcodes of varying sizes at varying distances, there is a model built to meet your needs.
SIGN UP FOR DEMO & BREAKFAST or Download Datasheet & product info
Other News From Recab:
Onsemi AR0521 image sensors in Industrial Cameras
The AR0521 produces extraordinarily clear, sharp digital pictures, and its ability to capture both continuous video & single frames makes it the perfect choice for a security applications.
Read More »

CuePilot Success Case: Innovative software & hardware in high-end TV broadcasts
– An embedded solution
CuePilot designs and manufactures innovative software and hardware for use in high-end TV broadcasts. Situated in Copenhagen, Denmark, with a global team, CuePilot has provided vision-mixing solutions for more than 1000 live shows which have been seen by hundreds of millions of viewers, among other things, the Eurovision Song Contest
Read More »